Creative services can feel like the wild west.
How can you guarantee that you will get the best result for your budget?
There is only one way to answer that question and the answer is research. The fortunate factor for you, if you are reading this, is that you have already started this process and you're in the right place!
My name is Jamie and I look after a lot of the creative & design aspects here at The Cake Mix. (If you are unsure of what these titles mean, don't worry, it's my job to help guide you through this wild west. I'll leave some explanations at the bottom of the page.)
I learnt my trade studying Filmmaking, Design & Production at Kingston University in London. I developed my skills as a creative and put them to action working for various companies such as Jamie Oliver, Huawei and Global Radio, just to name a few.
Below I've included a link to my showreel to give you a better idea about me. Just click the image to watch it.
One thing you MUST do when looking for creative work is check out what they have done before. Ask yourself, 'Does this look like what I want?' 'Does the standard of work fit the price tag?'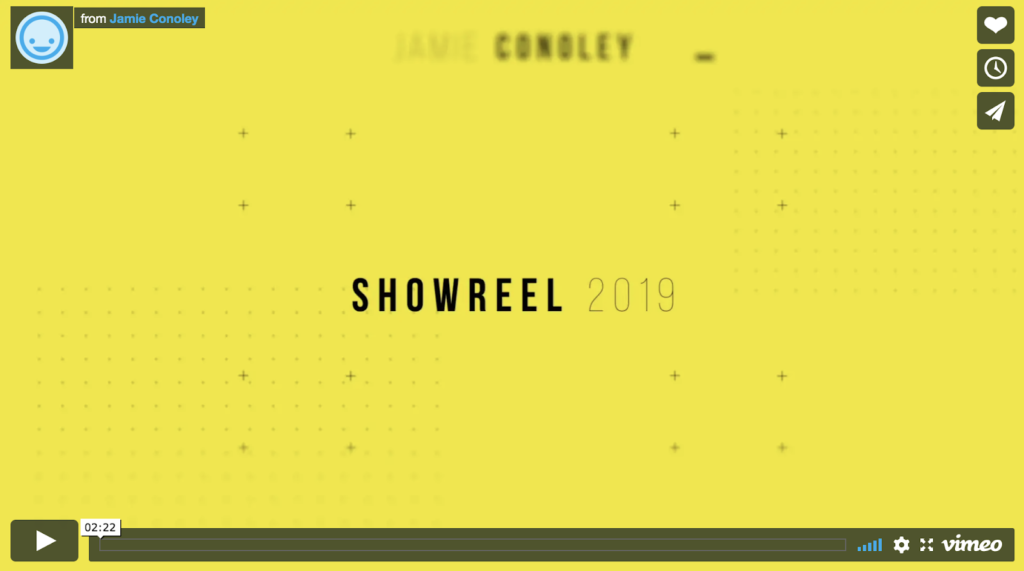 I started working with The Cake Mix in a similar fashion as to how I did with my other clients, which was working as a freelancer, brought in to work on a specific clients work when they needed it. My relationship grew with The Cake Mix as we had mutual ideas of working to better clients, not just with the work we undertake, but with giving clients a better understanding of why we do what we do and build a trusting relationship with them.
During your research, think to yourself 'Can I trust that my creative work will be done well?' 'They may talk the talk but will I have a good working relationship with them?'.
Here are some testimonials I have received from my time working in the creative industry.
"Jamie brought fresh ideas, craftsmanship and incredible dedication to the Huawei films we produced together. Faced with testing deadlines and a challenging creative, Jamie constantly managed to inject energy and style into the sequences, as well as demonstrating an impressive attention to detail for the product shots."

Alex Jupp, Executive Producer, Hurricane Media
"Jamie was great to work with. He was efficient and easy to work with on a very short timeline and he delivered ahead of the deadline with fantastic results."
Seun Johnson, Product Executive, Global
So, how do I work in The Cake Mix team? Since being here, I have developed the skills of marketing, sales and strategy. I weave these concepts into the creative work that I produce. With social posts and online adverts, I look at the clients audience and the platform the piece is intended for and optimize the finished output with my own research to best suit its destination. If my client is looking to drive sales, I focus on the statistics of why their audience should buy. Where as if my client is looking to build their brand, the focus is on creating emotive content, to give their audience an intimate connection.
So, your happy with what you have seen in the research you have done. You can see their previous work looks good, you've seen evidence from others, like yourself, that have worked with them before and that they are good at what they do.
So what do you do next………….? Contact them. This is where you will really get a feel for whether you have found the right person or not. Don't be afraid to ask questions. They should be able to help you in your process. If it turns out that it's not quite what your after, 9 times out of 10 they will be more than happy to point you in the right direction.
Now you have seen all of these key areas from me, is there something I can help you with? Do you have more questions about creative work? Maybe you're looking for something different and want some help finding what you're after?
Feel free to give me a call or an email, whichever you prefer. I have left my contact details below.
I look forward to hearing from you!
All the best,
Jamie Conoley
Creative
07455470044
jamie.conoley@thecakemix.co.uk
Graphic Design – the art or skill of combining text and pictures in advertisements, magazines, or books.
Motion Graphic Design – Motion graphic design is a subset of graphic design in that it uses graphic design principles in a filmmaking or video production context (or other temporally evolving visual medium) through the use of animation or filmic techniques.
Post-Production – work done on a film or recording after filming or recording has taken place.